Bangkok
Bangkok can be trusted to never deliver a dull moment. The city is hot, disheveled, chaotic, and it pulsates with frenetic energy. The city harbours endless opportunities for sightseeing, shopping and eating, and little to no time for rest! And when you feel like you've had just about enough, sign out for the afternoon at the spa, or set out for the evening at one or several of the exclusive, sky-scraping bars and restaurants where you can forget (or at least take shelter from) the city's thumping grind.
Among the quotidian hustle and bustle, what local Thais are most preoccupied with is the business and pleasure of eating; incredibly delightful (tr)eats emanate from some very humble, often makeshift kitchens. Here you can find the best grilled satays or mouthwatering, lime-laced curbside creature comforts like Pad Thai. For a little over a decade, the quality of ingredients has skyrocketed, along with the accessibility of more exotic finds, passionate chefs and a growing class of finer, more discerning foodies.
Bangkok's food scene runs the gamut of traditional Thai specialties, and is ever expanding its international repertoire at the service of locals and tourists alike. Here we reveal our curated, most treasured (and sometimes still secret) restaurants and bars.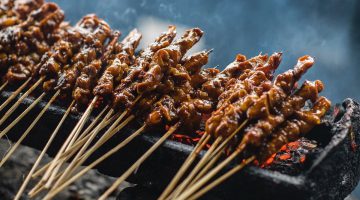 Street food
Bangkok's street food culture is a tourist attraction of itself. On almost every corner you can eat fresh, made-to-order food, spiced and flavored to personal taste.