Amsterdam
Amsterdam is and will remain a compact, remarkably laid-back yet at times still chaotic cosmopolitan capital. The unrivalled beauty of its city centre is only to be outdone by the characteristic canals and sprawling historical streets; a myriad of hidden gems for the curious. The open-minded culture, bustling business scene and creative spaces attract tourists and expats alike; making this one of the world's most unconventional, alluring cities.
Diversifying from its culinary history of colonial-era treats of the far east, Amsterdam has finally marked its place among Europe's most discerning culinary capitals. It has finally made its departure from an (often celebrated) reputation for heart attack-inducing bitterballen. This is a city sparkling, even bedazzled with several Michelin stars. There's nearly an endless stream of new and at-the-cutting-edge hotspots to eat and drink here; plenty of culinary adventures await even the most critical of palates whether from near or far. The city's playful interpretations on fusion cuisine, retold classics, popups and new age cooking have all fashioned themselves into the mosaic that is this city – and often dictating what's new and hot for other capitals following suit.
Discover the best Amsterdam has to offer – whether dyed-in-the-wool traditional classics telling Dutch history on a plate, to sensational modern delights that will have you by the tongue and heart. SpecialBite and KLM has curated these most treasured restaurants and bars exclusively for you.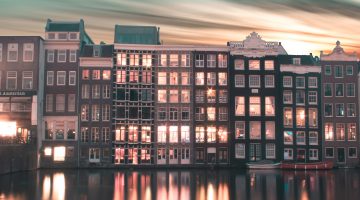 Amsterdam
Amsterdam is a combination of treasure-packed museums, vintage-filled shops and hyper-creative design, drinking and dining scenes.